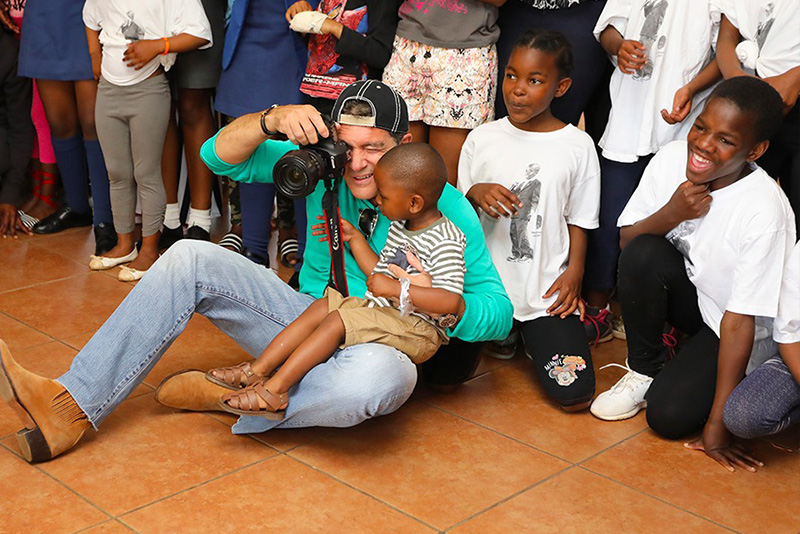 Antonio Banderas Celebrates Nkosi's Haven
An African proverb states; "A child is what you put into him." Today, international star, Antonio Banderas visited Nkosi's Haven in South Africa – throwing a party in their honour.
Banderas was in South Africa for the launch of his new fragrance, The Secret Temptation. As part of this launch, he unveiled his travelling photographic exhibition, entitled "Women in Gold". This collection reflects his admiration and respect for all women, and every attribute that makes them "gold". Certain items from the exhibition were be auctioned off at a gala dinner, and the proceeds of this auction will be donated to Nkosi's Haven.
Having been in operation since 1999, Nkosi's Haven offers holistic care and support for destitute HIV/AIDS infected mothers, their children, and resulting AIDS orphans (infected or not). A report conducted by Avert confirms that despite significant progress in decreasing the transmission of HIV from mother to child, the number of children becoming newly infected remains devastatingly high. "In 2016, 24 percent of pregnant women living with HIV did not have access to ARVs to prevent transmission to their infants. In the same year, around 160 000 children became infected with HIV; this equates to 438 children a day."
Nkosi's Haven is named after Nkosi Johnson, the young AIDS activist who passed away on International Children's Day on June 1st 2001. His dream was to build a facility that would care for the mom and her child, keeping them together. As the tiny, brave AIDS activist said in his speech at the Opening ceremony of the 13th International AIDS Conference in Durban, July, 2000; "Care for us and accept us – we are all human beings. We are normal. We have hands. We have feet. We can walk, we can talk, we have needs just like everyone else – don't be afraid of us – we are all the same."
With this in mind, and as the pomp and ceremony for the launch was prepared, the philanthropic star, Antonio Banderas, shared his desire to spend time with the children at Nkosi's Haven. With a passion for caring for others, and a self-imposed duty to do good with the fame he's worked for, Banderas arranged a party for the kids living at the Haven – because they're worth it. Sentiments were shared that, if the media are to be treated to a big gala dinner, how much worthier are these children to be spoilt with a party of their own?
Sharing his love for photography with the children, Banderas took on the role of party photographer, and spent the afternoon capturing the portraits of the children and their mothers. He enjoyed the afternoon at the Haven, bonding with the children and their mothers, and enjoying the entertainment by Babes Wodumo together. The photos that Banderas took will be printed and a framed version given to each of the 22 mothers and 121 children currently residing at the Haven. The photos will also be given pride of place on the walls of the Haven, further entrenching the children's understanding that it is their home and their refuge.
The desire to promote the welfare of others is something that drives Banderas daily. "The best role of my life has been, and still is, bringing comfort and help to people who really need and deserve it."