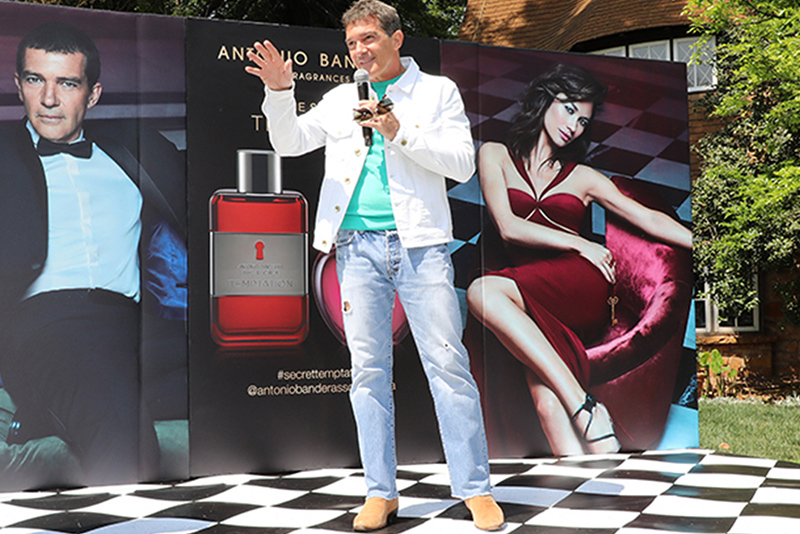 Antonio Banderas Brings Secret Temptation to South Africa
Between the 18th and 21st of September, Antonio Banderas was in South Africa to present his seductive new fragrances Secret Temptation, for men and women. Launching in conjunction with his photographic exhibition "Women in Gold", South Africa got a glimpse of the man behind the star persona – a man with a golden heart and the soul of a gentleman.
During his 4-day stay, Banderas had a busy agenda – demonstrating his passion as the face of his perfume brand, his talent as a photographer, and his generous side through his collaboration with Nkosi's Haven.
The visit began with a media briefing, followed by a viewing of Antonio Banderas' photographic exhibition "Women in Gold". "Women in Gold" is a series of 22 photographs, 5 of which are limited edition, that "reveal the magic that surrounds every woman and makes her unique and irresistible". It's a tribute to all women worldwide, and a reflection of the fascination and profound respect that the actor has for the feminine universe.
Since 2013, the collection has travelled to numerous countries such as Spain, Chile, Colombia, Peru, Brazil and Russia. In every country, Banderas has collaborated with a local NGO that supports causes close to his heart. In South Africa, he is working with Nkosi's Haven to raise money to help victims of HIV/Aids. From the very beginning of his collaboration with Puig, who partners with him on his fragrances, Banderas has been very clear that he wants to use his perfumes as a platform to support social causes. As he put it himself: "One good thing about being famous is that it gives me a great potential to support good causes. As a celebrity, I feel that it's my duty to give society something back in return for all that it has given me."
Nkosi's Haven started in 1999 and offers holistic care and support for destitute HIV/AIDS infected mothers, their children, and resulting AIDS orphans (infected or not). It is named after Nkosi Johnson, the remarkable young AIDS activist who passed away on June 1st2001. After being separated from his own mom because of the HIV diagnosis, he never wanted that to happen to any other child. Not only will Nkosi's Haven benefit from funds raised through the auction of the "Women in Gold" photos, as well as through the sale of limited tickets to the public for the gala dinner, but African Sales Company, distributors of Banderas' fragrances in South Africa, has also committed to donating R100 000.
The 4-day agenda was packed but, at the end of it, South Africa has new insight into a man that has conquered Hollywood, won over people around the world with his easy charisma and natural charm, and bared a little bit of his generous soul.